e-Direct Marketing - getting emails read
Dealing with bounce backs, gone aways and non-delivery
Obviously youíll check and clean your mailing list as much as possible before your mailing goes out (right?) to minimise the amount of returns you get. However, there are always some mails that come back which have slipped through the checking process Ė or simply because people have moved on or changed their email address. Get all the non-deliveries consolidated in a report that lists them in categories. Many e-mail houses and email software programs provide this service as a matter of course. It allows you to deal with easy mistakes, such as no Ď@í sign or a Ď,comí instead or Ď.comí, and quickly re-send the affected mails keeping your delivery numbers up. Then youíll be able to deal a smaller list of more complex problems of incomplete or inaccurate addresses.

Send your mail to someone who wants it
The reason so many people say ĎI didnít receive ití when following up on an e-blast is because they didnít register as having received your mail. And often the reason they didnít register is because the content wasnít relevant to them. Make sure you get your message right for your audience. Itís all very well thinking you donít have the time to write several emails, but statistics prove that itís worth the effort. Once you have written one email itís an easy task to tailor it to several different types of people or groups. Split your list into obvious sections, eg. job title, company size, gender or age, and mail an appropriate message to a smaller group for better response rates.

Personalise it
If your email is personalised and starts off ĎDear Joaní rather than ĎTo the homeownerí or ĎDear Finance Directorí itís obviously going to have more impact and itís more likely that the recipient will scan through the first paragraph or two. However, donít overdo it, Fred, as itís extremely irritating to be told, Fred, that your name is Fred. After all, Fred, youíre aware of who you are and donít need someone else constantly telling you, Fred, that youíre Fred!

Talk to people who know you
Sending emails to those who know and trust you is going to provide better response rates. The best way to do this is to use your own opt-in lists that youíve built up over time. Sending people relevant information and offers builds your relationship with them. Core to this relationship is the belief that your organisation provides something they need which encourages them to continue reading your emails. Also remember the timing of your emails so you donít either overdose them with too many mails or lose their attention with too few. Include your mailing opt-in option on as many web pages, emails and other communications as is practicable to keep building up your all important marketing database.

Getting the right title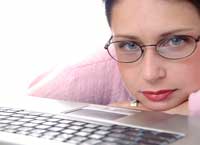 As was noted earlier, if you havenít grabbed someoneís attention in a couple of seconds youíve probably lost them. People have so much email pouring into their inboxes that, unless itís something they want and can see a benefit from, it will go into the trash folder very quickly. Make sure the title of your email gets across the message in as few words as possible. A title along the lines of ĎIt will benefit your company if you read this email because weíve got something really good to tell youí is not going to get many people clicking through! Whereas something along the lines of Ďwe can save [company name] hundreds in insurance premiumsí says exactly what the offer is and will be more successful Ė especially when itís sent it to the correct person.

Do some testing
Here are a couple of useful tests you can do prior to sending out your e-blast to see if your email gets through. Run your mail through a spam filter to see if it passes the spam test. (If you donít have one, you can find free spam filters and content checkers on the internet.) Then set up a series of email accounts with popular providers such as Gmail, Yahoo, Hotmail and AOL, send your mail to all of these accounts and see if it arrives. Hopefully it will, but if it doesnít itís probably been blocked by a spam filter. You could also try sending it to a couple of corporate email accounts to see if it gets through their filters as well Ė but obviously only do this with someoneís prior approval!

ISP problems
Sometimes mails are blocked because they are deemed to have come from an IP address that is somehow related to spammers. This can be a mistake made by an email system filter and a phone call to the relevant company/individual to Ďunblockí your domain name can fix the problem. However, if many of your mails arenít getting through find out if your domain name has been blacklisted by one of the many organisations trying to stop spam. Check the internet for companies who hold ISP (Internet Service Provider) blacklists. If you use an ISP youíll need to contact them to resolve the issue Ė they look after your email address and should ensure it is removed from any blacklist ASAP. If you want to be totally sure your mails get through, you can pay to be put onto approved whitelists Ė check out the internet for relevant organisations.

Consider RSS or Atom
RSS (Really Simple Syndication or Rich Site Summary) is an alternative way to get your message to recipients instead of using email. In essence it is a subscription to a series of web feeds, ie. content delivery of frequently updated information such as headlines, blog entries or daily broadcasts. The main reasons for its use are to combat spam and to allow recipients to choose exactly the information they want to receive. This can be particularly beneficial to those of you whose legitimate emails are being blocked as spam by filters. Another alterative to RSS is Atom, a very similar service but using a different file format. The last two sections arenít about making sure your mail gets through, but are important to include and action.

Donít forget the Opt-out option
You may not like doing this, but donít forget to include an Ďopt-out of future mailingsí link in your emails Ė this requirement is law in several countries. After all, if someoneís asked not to receive mail from you, whatís the point in mailing them? Much better is to find some new prospects who will ultimately become customers.

And finally, track it
And lastly, make totally sure that each email and landing code contains a unique and working tracking code. Without this you simply cannot measure the success of your mailing or where any problems lie that need fixing. You canít see if your campaign was a winner through the number of sales/registrations/downloads it generated or provide any hard and fast facts. Something that is critical for you to give accurate, tangible results for all your hard work!
Abigail Shone
You might also be interested in:
© 1982-2023 CEBUS Marketing - Anna Calandri - All rights reserved. We are committed to maintaining quality and performance standards. This website generally does not collect any personal information. Only when you submit a request to us or sign up for a service will personal data be collected and stored. More...