How to find local customers cheaply and easily
Reaching 000's of potential new clients can be cost-effective (Local Customers) and simple. Why not try door dropping a leaflet into mailboxes/letterboxes to get your message directly to the house or business owner. Say you have a restaurant, mobile car valeting or ironing service and you have a great offer to entice people with – simply design a communication, print it up and get it delivered.

This type of direct marketing (DM) material doesn't always have to be personalised. It can be a simple A5 flyer created and printed using your own office software. This will keep costs down considerably and is a good way to 'test the water' and find out what response rates are like before committing yourself further.

Make it look professional
Do, however, make sure that your DM piece looks professional with a clear headline message. Most people will only glance at a non-personalised item and if your missive looks at all 'home made' or contains errors, it will go straight in the bin. PC tools today make it easy to include photos, graphics and colour, so take the time to make a professional looking communication.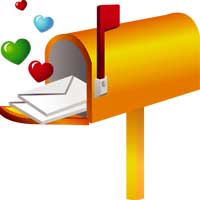 A great way to get a response is to include a prominent offer, for example: '25% off your evening meal!' or, 'Free wax with every full car valet!'. All the small print about what days the deal is available, how long it lasts, to what value, etc, can be included later on. You want to grab people's attention straight away and then tell them how to take up your promotion.

Don't forget to include all your contact details – address, telephone number and website address (if you have one). If you're asking people to come to you, add a simple map. Make the company name clear and bold, so people remember it and can tell their friends and family about you by name.

Delivery options
You could get out there and tread the pavements yourself, but you've probably got better things to do! Check out directories and the Web for leaflet distribution organisations – usually their prices are pretty reasonable. Specify how you want your items delivered otherwise your DM piece may be handed out with several others, and your message is lost in a pile of paper.

Another option is insert your communiqué in a local newspaper, magazine or directory – again check the Web and telephone directories for contact details. Sometimes you can specify which postcodes you want used and remember to check if any other DM pieces are also being included. If you go down the newspaper route, ask if there's the possibility of an article being written and published about your business as well.

Tell your staff!
Finally, don't forget to make sure everyone in your organisation (or family if you use your home number for business) knows about the offer, the dates it is going out and how to respond to enquirers. After all, if you delivered 1,000 leaflets offering '1 shirt ironed free with every new ironing order', it would be pretty poor if a prospect rang to claim the promotion and your staff new nothing about it! This situation would probably lead to a lost opportunity and bad publicity as the disgruntled person could spread the word amongst their friends and neighbours.
Abigail Shone
You might also be interested in:
© 1982-2023 CEBUS Marketing - Anna Calandri - All rights reserved. We are committed to maintaining quality and performance standards. This website generally does not collect any personal information. Only when you submit a request to us or sign up for a service will personal data be collected and stored. More...