OpenEMM is free and professional e-mail marketing software, which offers sophisticated bounce-management, link-tracking and a number of further features.
What is then OpenEMM precisely?
With more than 500,000 downloads (stand May 2015), the open-source software is among the most popular aids for newsletters. The latest version now offers a multitude of new functions. For instance, even more interfaces are included, as well as new target groups, a refined bounce-detection and enhanced user-friendliness. The tool is available free of charge and incorporates all essential technical requirements for modern marketing via e-mail.
The name OpenEMM stands for Open E-Marketing Manager and it is the marketing solution for professional advertisement via e-mail. It is based on Open Source and guides the user during e-mail campaigns, from the creation of the mailing, to the dispatch of e-mails, up to the evaluation of the mailing campaign on the basis of click and opening rates. Among the features is campaign support, as well as rule-based or event-based mailing campaigns. The developer of the software solution is AGNITAS, the technical service provider. As pioneer in matters of marketing automation and e-mail marketing, continuous further development of the software has ensued.


Quick check of the features

Mailing list server


Target groups based on profile fields as well as user behaviour


Static and dynamic e-mail templates


Setting up a link


Bounce management


Real time statistics


Graphic statistics


Integrated content-management system


Automatic data import and export


Dispatch of time-controlled mailings


Service and transaction e-mails


Script actions


API web service


Plug-in interfaces


Log of user activity
And much more...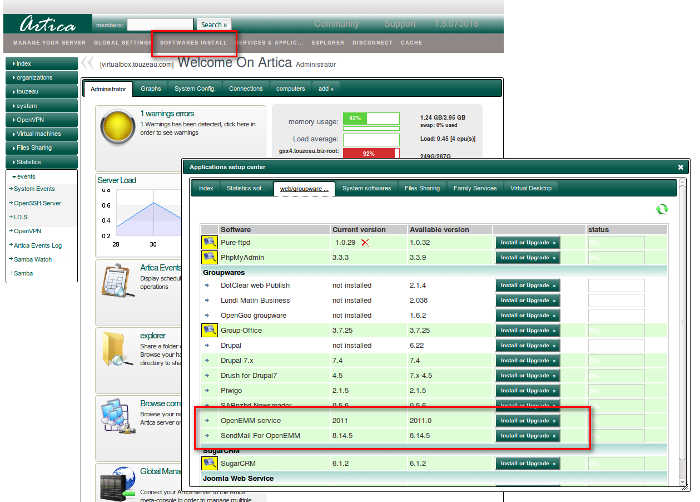 The software has become one of the most popular e-mail marketing programmes over the years. As reasons for the success of AGNITAS AG, the founder and chairman Martin Aschoff, states: "With OpenEMM, we offer an unbeatable combination: A lot of performance, and at no charge. The extensive range of functions of our web-based solution distinguishes it from other open-source programmes and has accomplished that users prefer our software.


OpenEMM – This is new!

With the new version, senders can now create new target groups, by analysing the recipient behaviour based on opening and click rates. Depending on whether the recipient opens an e-mail at all, reads it or clicks it, he will become part of the different target groups for the following dispatch of new e-mails.



The interfaces and the number of functions have grown. A time-controlled import/export function is now available. Recipient data can be exchanged with another system – and this happens completely automatically! Even the webservice offers new possibilities, such as carrying out mass operations.


By means of revised bounce detection, enabling even more refined evaluations, delivery rates were improved.



In addition, the dispatch site and the validator for e-mail content were improved, the length of the lists can now be firmly defined and the administration of menu items features a new sorting one.



The 2015 OpenEMM Version shows error messages when there are problems with the databank, which are helpful in order to detect problems. Moreover, the new version also runs on the current versions of Java and Tomcat.



By improving the mailing-processing possibility, higher security is now granted. The creation of mailings can now be carried out with a revised editor and a picture can be suppressed in the preview. Filtering of harmful statements takes place and failed login attempts are displayed.
Frank Große
You might also be interested in:
© 1982-2023 CEBUS Marketing - Anna Calandri - All rights reserved. We are committed to maintaining quality and performance standards. This website generally does not collect any personal information. Only when you submit a request to us or sign up for a service will personal data be collected and stored. More...