Right Relationships and Direct Mail
You are sitting alone at a café, enjoying a fine coffee and taking time to linger over a newspaper. Suddenly a hand grips the paper and tears it off of your table. You didn't invite this person to your table, but you see they have made themselves at home. Then, they start talking and they keep talking. You find yourself assaulted by the life story of a Relationship Marketingstranger.

Poorly done direct mail can be just as intrusive.

Here are some tips and tricks to help you build a relationship through your direct mail that won't have your clients seeing you as an obnoxious stranger.

Ask permission
Let people know on your client forms (business documents) or when you register them as a client on your customer management system/software that you will be sending them information about your company. If you have an online sign up form, include a screen shot of it in your first mail out to the client with a note "A reminder: you signed up to receive this mailing with this form."

Always give them a way out
Include a "please remove me from your list" option. It's polite and it is the right thing to do.
When a client clicks into this option – or sends you a note - you may want to ask them for feedback (if your company has the infrastructure to manage it properly and effectively) as to why they opted out of your mailings. That can be valuable feedback to incorporate in the future.

Be different
Instead of being asked if you'd like to receive information about a company's products and services – wouldn't you love to be asked to join in a network? Facebook, Twitter and other social networks have proven that people love social networking. It's an easier sell to ask a client to join your company's network. Tell clients specifically what that will look like, whether that will be newsletters, relevant emails, mailings or even invitations to your company's Facebook page. You can also score big relationship points with clients to let them know how often those customer-touches will be coming and from what mailing or email address. This way, clients know to look for your material.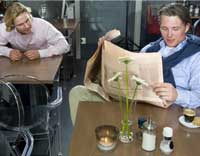 Let them invite friends
The best direct mail gives readers the option to forward the information to friends. This is easily managed with proper coding on an email. Be sure to create a system that allows for the message: "Your friend Bob thought you may be interested…" That's called a qualified referral in the sales industry and it's invaluable.

Be polite
Too often once a list is purchased or developed companies will begin sending out material that has no value to the clients. If you want to send out material "because you think 'they' should know" you're not doing potential clients or your company any favours. In fact, you may be damaging your brand.

The most successful direct mail offers value. People will sign up for newsletters if the information offers them tips or coaching that is relevant to them or if savings are offered on products they actually use. A coupon for free detailing with the purchase of a brand new luxury sports car may get some response. A coupon for a 50 per cent discount on a popular brand of laundry detergent will get a much bigger response.

Check yourself out
Audit your company material before you send material out. If you're encouraging people to click into your website – make sure it's updated and the content is relevant. Be sure someone tests all of the links on your site and that broken links are fixed. Give a copy of anything you're sending out to all of your company's gatekeepers. That means your sales team, receptionists, call centre staff – anyone – that may get a query about the material, the offer or the messages. Let your staff know how your mailing lists are created or where they are purchased from so that they can answer any questions from the public.

Be concise
Do you like having a conversation with a person who drones on and on about themselves?
Of course not! Keep your emails, direct mail, newsletters, web content and brochure material concise and relevant to your customer.
The best rule of thumb is to read your company's customer-facing material and ask if it answers the questions: "Does this clearly explain the benefit to my clients?"
"Am I giving value (sincere discounts, added-value knowledge or relationship building content) to the client?"

There is etiquette in building any relationship. Using good manners and showing it in how you carefully manage your direct mail will help you build and deepen relationships with clients. Set yourself up for success by starting well. Cebus.net staff can help you along with proper mailing lists and advice on how to best reach out to your clients and potential clients.
Michelle Nicholson
You might also be interested in:
© 1982-2023 CEBUS Marketing - Anna Calandri - All rights reserved. We are committed to maintaining quality and performance standards. This website generally does not collect any personal information. Only when you submit a request to us or sign up for a service will personal data be collected and stored. More...