Understanding e-mail marketing
You have to advertise: newsletter marketing
An inexpensive and quick advertising opportunity is sending newsletters by e-mail. You will be successful if you follow four simple rules:


E-mail addresses with certifiable opt-in (= permission to contact)


Easy, non-advertising option to stop future mailings (=opt-out).


Serious senders with a whitelisted mail server.


Design of a spam-free and technically faultless advertising message
If you don´t follow the rules, you shouldn´t wonder if it´s only lawyers that profit from your advertising message. CEBUS is here to make sure you don"t get anywhere near this stage.

Why shouldn´t you send e-mails from your own server?
If you send e-mails or a newsletter to your own clients, then that"s usually OK. Basics Newsletter Marketing It becomes problematic when you send e-mails to unknown recipients. Because in most European countries you are only allowed to send advertising e-mails with opt-in. Opt-in means that the recipient expressly agrees to receive advertising e-mails. A newsletter is a sort of subscription.

The addresses of subscribers are valuable because they have been won through expensive advertising. The address owners or senders pay attention to the following in their own interest:


That the e-mails have a certifiable opt-in. This way, you won"t have any problems with lawyers.


That the subscribers can unsubscribe from the list easily and completely.


That the message is appropriate for the target group. Because they want to make sure that not too many subscribers unsubscribe.


That the recipient is not bombarded with advertising e-mails. This is determined by optimal timely sending intervals according to the target group.


Very important: The sender´s server should be whitelisted. E-mails from a sender like this are not seen as spam and are therefore not automatically deleted by Internet providers. They reach the recipient.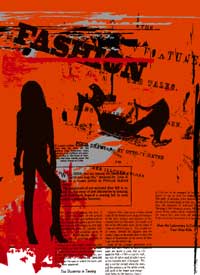 As you can see, a compact service package lies behind a successful campaign. What are the opportunities?

Newsletter: Advertising
The newsletter advertisement can be compared to a newspaper that has advertising in it. You share the advertising space with others. Naturally, it´s ideal when the theme of the newsletter fits in with your advertisement.
The minimum amount is 100,000 and the cost is from 1,500 Euros.

Newsletter: Stand alone
With this type your advertising message gets full attention. You can even determine the exact time of sending. It´s legally prescribed that the sender has to be named in the header and footer, in other words the dispatcher. This is usually taken care of by a banner.
The minimum amount is 25,000 e-mails from 998 Euros.

Newsletter: sending independently
You have your own addresses from clients and interested parties that you have obtained according to the legal provisions? Then you should put these on a secure, whitelisted server and, for example, commission CEBUS to send your newsletter out regularly.
The costs are straightforward. There is an all-in-one fee for the set-up from 200 Euros. On top of this there are sending costs of 2 to 5 Eurocents per e-mail.
If you send more than 600 newsletters, this is already cheaper than a mail circular. And you save on printing costs as well. All you have to do is deliver the text to be sent. In the legal notice, only your company will appear.

Newsletter: competition
Do you have a monthly advertising budget of about 10,000 Euros? It could be worthwhile to set up your own competition. For this, you get about 10,000 e-mail addresses per month and some telephone numbers too. You can get some of your costs back if, as the owner, you rent out the addresses for secondary use.
Alternatively, you can share the competition with other companies, so-called co-sponsoring.

What´s the next step?
First of all, you decide on the type of newsletter: advertising, stand-alone, independent sending or competition.
Then you deliver the complete contents of your advertising message. Alternatively, you just send your ideas with a few pictures and images and commission your advertising agency or CEBUS with the concept, text and design of the newsletter. Count on costs of about 500 Euros for the first finished draft. You can and should always reuse the graphic part of the design. Here you will find information on the technical requirements.
Get advice on a relevant and ideal target group – and your first campaign is on its way.
R.C.
You might also be interested in:
© 1982-2023 CEBUS Marketing - Anna Calandri - All rights reserved. We are committed to maintaining quality and performance standards. This website generally does not collect any personal information. Only when you submit a request to us or sign up for a service will personal data be collected and stored. More...