Who Else Lost Money On The "Creative Advertising"?
Dear Fellow Entrepreneur,
Do you still believe that there is no way of knowing the advertisement pulling-power before you spend your hard earned money running an ad in your local (rip-off) newspaper?
… That there is no way of knowing if your product launch will be a huge success or a miserable failure?
If you are still in the mass of today's advertisers, with your eyes wide-shut to reality, believing that what Coca Cola runs Lost Moneyand works for them on a global scale, would work for your small XYZ company, I have good news…
This will be the most important article you've ever read.
Here's why: The advertisement space costs the same whether it produces zero orders, ten orders or one thousand orders. And while most advertisers today are barely breaking-even, I'll show you how to make money each time you publish an ad with simple, years-proven advertising strategy.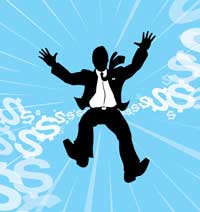 Who the hell am I?
After reading such a huge promise, I must tell you why you should listen to me in the first place.
My name is Dominic Wright and independent agencies have called me "The Most Effective Advertisement Writer In The World", "Hall of Fame Copywriter", "highest paid b2b advertising consultant",… some have even gone as far as "the man who writes in gold".
But, I am not here to brag, just to show you the value I am ready to share with you in this article. The insiders of the most successful entrepreneurs today and how they are able to constantly make profits each time they publish an ad.
… No matter how your competitors SUCK advertising in the same media
… No matter what kind of result you've been getting (or not getting) up till now.
Before I share with you the profit-pulling secret of ads that work, I must break and crash one illusion you might have.

"Creative Ads SUCK"
… they suck the money out of your wallet.
… they suck at persuading people to buy from you
… and they suck at getting consistent results.
I don't know who was the first one who told you this shameless lie that you have to be creative… That main purpose of the advertisement is to get ATTENTION to your product or service.
It doesn't matter.
I'll show you now rationally and simply why creative ads waste your money and what is the cheaper, stratospherically (if that is a word) more effective way to make money from your ads.

The Case Against: Creative Ads, Slogans And Nonsense, Self-Oriented Promotions
First… creative ads do not measure response.
If you don't measure response, you do not know precise numbers of how effective each particular campaign is, right?
Right.
If you don't know precisely what type of ad pulled more orders for your product or service, you don't know what approach works better, right?
Again… right.
So then, if you don't know what works better than two previous attempts, how can you make any advancement? How can you use the perspective, the approach that worked better and try it with another ad… in a new variation and try to make even higher response?
You can't.
And this is where we come to the second most-important, money-generating idea creative ads miss… testing.
If you don't test, if you don't constantly improve, you will continue gambling your money each time you publish an ad… not knowing what kind of results you will be getting and if it will make any sales.
There is of course, a solution.

Presenting The Advertising Secret Of The Most Satisfied… Most Successful And Most Respected Entrepreneurs Today
The richest entrepreneurs today have long realized, if they want to be able to constantly make huge profits by advertising, they have to figure out something more reliable than pure luck masked behind the word "creativity".
They wanted a "formula" that will enable them to sell out their entire inventory by publishing one single ad.
And you can recognize easily those successful men and women – they don't take any BS explanation "creative" marketing agency would give you for lack of results.
The type of advertisement I will present you now is developed by entrepreneurs… written by entrepreneurs and improved by entrepreneurs.
It is the pure gold because it gives you an (un)fair advantage over any creative advertiser who simply doesn't know why is something in the ad… except because his designer liked it that way.
The secret is called scientific advertising.
Scientific types of ads tells the entire story in the ad. It follows the proven persuasion formula to not only get the attention of the reader, but to suck him into the text telling him about the product or service that could help him solve his urgent problem… It educates the reader and leaves the only one logical solution – your product or service.
Scientific types of ads use concepts that produced the most results (orders) in the past and include them into your ad.
A good ad writer should be able to logically explain to you why each word is put in its place… why one particular type of font… why that headline and why that structure.
You realize the ads that are based on scientifically proven persuasion flow, that use "the nectar" of previous successful launches and implement them into your advertisement, have skyrocketed your chances to success in comparison to the ads where the graphic designer does the main selling job.

How to Scientifically Make Your Ad A Mind-Blowing Success… doubling and then re-doubling your response-rate?
If you think it is hard to make the world class, profit-pulling ads, you're right.
But, if you think it is hard to double the response rate your creative ad is generating, you're dead wrong.
Just follow a few, easy-to-implement tricks I'll teach you and if you don't out-pull your "creative" ad by at least 50%… contact me with both the old and new ad and I'll show you how to do so.
I'll lay out the few easy to follow steps that will both save you money and make you more money. It's up to you to follow them blindly if your main goal is to get that phone ringing with new orders.
Let's go..
Dominic B. Wright
You might also be interested in:
© 1982-2023 CEBUS Marketing - Anna Calandri - All rights reserved. We are committed to maintaining quality and performance standards. This website generally does not collect any personal information. Only when you submit a request to us or sign up for a service will personal data be collected and stored. More...