Using Facebook and Twitter for Promoting your Site
Social networking isn't just the wave of the future, it's here and now. The Internet has taken the element of geography out of meeting people and getting to know them. This can have an enormous effect on the success of your business. Because Facebook and Twitter are two of the most popular social networking sites, this article will discuss both.

Facebook, Twitter Facebook started in out in 2004 as a site for high school and college students, but it has grown so rapidly that there's no real "Facebook demographic" now. You can use a Facebook account to make business contacts, direct the curious to your business website, and interact with customers one on one.

Setting up an account on Facebook is simple and only requires a valid email address. Once you have a Facebook account, you may wonder what to do next. It's simple. First, fill in your business's profile. You can upload a photo of yourself, a logo, or some other graphic that represents your business. Next, think of 10 business associates, relatives, and friends and check to see if they have Facebook accounts. You'd be surprised how many people do. You're almost certain to hit upon a few people in your life who are already on Facebook.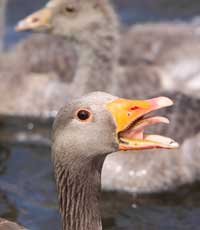 Once you've found people you know, "friend" them. There is a button to click that allows you to send a friend request. When they accept the request, you can check out their friends, and they can check out yours. If you search for ten people, find five of them, and make friends with four, that gives you four sets of people that your friends know and like who may be amenable to getting to know you online. Meeting people on Facebook is very easy. To "friend" a commercial site, like that of the New York Times, you become a "fan" rather than a friend.

One thing you should not do on Facebook is overwhelm visitors with tacky, blatant links to your site. Your Facebook site should have real information on it, and it should be updated on a regular basis, preferably twice a week or more. When people go to a Facebook business site, they want to feel like they are connecting with that business as an interested party, not as simply traffic to be rerouted to your sales site.

Helping your Facebook network to grow is an organic process, but you will probably be surprised at how easy it is. There are many groups you can join, one of which is bound to relate to your business. And if there isn't one, you can start a group yourself. Facebook is a very have-a-friend-to-be-a-friend environment. People are more likely to seek out your commercial sites if they see the presence of a real person behind the Facebook account.

The other top social networking site is Twitter. Again, setting up a Twitter account is very simple. You'll fill in a brief profile, and you can upload a logo, or a picture of yourself. Then, you're free to fill in 140-character "micro-posts" about what is going on in your business, things like when a sale is coming up or a new product. You can search Twitter by keyword to find people who might be interested in your sales website, and "follow" them. When you do this you get all their Twitter posts when you log in. Many of them won't reciprocate and "follow" you, but many of them will, and your network can grow organically, like with your Facebook account.

It is best if you keep the links in the Twitter posts to a minimum. People who want to get to know you or your business will quickly stop visiting if every post is just another link. They want to know the person and the business, but the person first.

On your Facebook and Twitter profiles you should keep it fairly professional, but not overly formal or stuffy. Unless you sell glitter for a living, you should refrain from decorating your Facebook site with things like unicorns or cartoon kittens. And it should go without saying that your profile picture should be suitable for all audiences.

A tool on Twitter called Twhirl can be very handy for a business using social networking. Twhirl allows you to cross post updates to Facebook, so you don't have to post something on Twitter, then go to Facebook and post it again. This can be a real timesaver.

Social networking is growing in influence and importance as an effective marketing tool. Building an online social business network is very similar to building contacts in the offline world. But the great thing is, with social networking sites you can make contacts down the street, or even on the opposite side of the world.
John Sinit
You might also be interested in:
© 1982-2023 CEBUS Marketing - Anna Calandri - All rights reserved. We are committed to maintaining quality and performance standards. This website generally does not collect any personal information. Only when you submit a request to us or sign up for a service will personal data be collected and stored. More...