Certain article subjects keep coming back. These are seasonal events, such as Christmas, but also questions that keep coming up. Should a fully new article be written about it every time? What is the best way to deal with these repetitions?
Content – The right way of dealing with recurrent subjects
What does content achieve?

Content should permanently be found by search engines. Google likes up-to-date and recent content. Therefore articles must meet two requirements at the same time:


They must be permanently usable


They must be complemented with new content regularly, which is also permanently usable
Content is particularly good, when it is never out of fashion.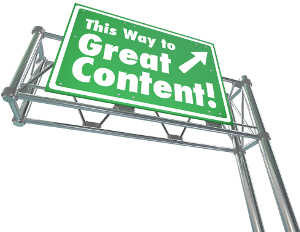 Especially when it includes information that is useful and of high-quality as well – so interesting that readers will remember it for a long time. The following tips can help you to do so.


Tip 1 – Create permanently usable content
The content about Christmas mentioned above should also work well the following year. In general, very little is different about Christmas every year. It might be that the fir at the Christmas market is decorated differently, but the basic structure of the market always remains the same. For this reason, a text about the Christmas market is worthwhile, when it is still up-to-date and functional the following year. This text ends up in the top ratings of the search results thanks to SEO and the numerous viewers of a website.


Tip 2 – Research carefully and explicitly
In order to achieve that such texts are well-received by the public, it must be about a subject which will remain acute for a long time. The more extensive and detailed the content is designed, the better it will work. The ultimate goal is never to only write the longest text possible – stating facts, which optimally inform the reader, is much more important.
The more users are helped with the article, the longer the content will remain in people's memories. And the more often the content is groomed and the more interesting the subjects seem to be, the larger the community that follows this website will become.
However, this also means that the content must be exclusively public-oriented. Only when all issues have been addressed and no more questions can possible arise, then a text is really ready – and never when a particular number of words has been achieved.


Tip 3 – Write timelessly
Whoever wants to attract readers should rely on proven subjects. Search engine optimization for example – which mechanisms remain unchanged? Conversely, this also means that no short-lived subjects should be chosen. News, which is "out" after a few weeks or even days, is a waste of time. Things that will always be of interest for your target group are the best. It is also helpful when readers are asked, which subjects interest them – the replies are often a good starting point to refine your own content strategy.


Tip 4 – Pay attention to SEO optimizations
Permanent content can only reach its full potential, when it is also actually found. If drastic mistakes are made in terms of search engine optimization, nobody can find the content. Search engine rankings are important, so that the public can become aware of the website via Google. Only internet presence which appears at the top of the search results is successful.

Whoever is also active globally must even consider several particularities when creating content: Content is only successful globally when it is correctly translated and localized, before finding its way into the World-Wide-Web. This is why, for example, the Mitsubishi Pajero is called Montero in Spanish-speaking countries, since the Leopardus Pajeros is the Spanish denomination for a type of cat of prey. Therefore, before the actual translation can take place in marketing, a thorough analysis and localization of the customer must precede it, in order to take into consideration the particular aspects of the language. Even British English is significantly different from American English.
Frank Große
You might also be interested in:
© 1982-2023 CEBUS Marketing - Anna Calandri - All rights reserved. We are committed to maintaining quality and performance standards. This website generally does not collect any personal information. Only when you submit a request to us or sign up for a service will personal data be collected and stored. More...